How to Get

Event area is in the Belgrad Forest National Park. Enter national Park via main gates (and tolls) from Bahcekoy. Follow signs "F.Rifki Atay Mesire Yeri". It is 2km further than the popular Nesetsuyu Lake track.
Shuttle Service:
Exhibitor shuttles for the Geyik Koşuları will depart from the Hacıosman Metro exit. Click here to buy service tickets!
The shuttle will depart from the side of Hacıosman Kokoreccisi, which is very close to Hacıosman Metro Station.
Location: https://maps.app.goo.gl/rZeSJh9T2mpX6xNW7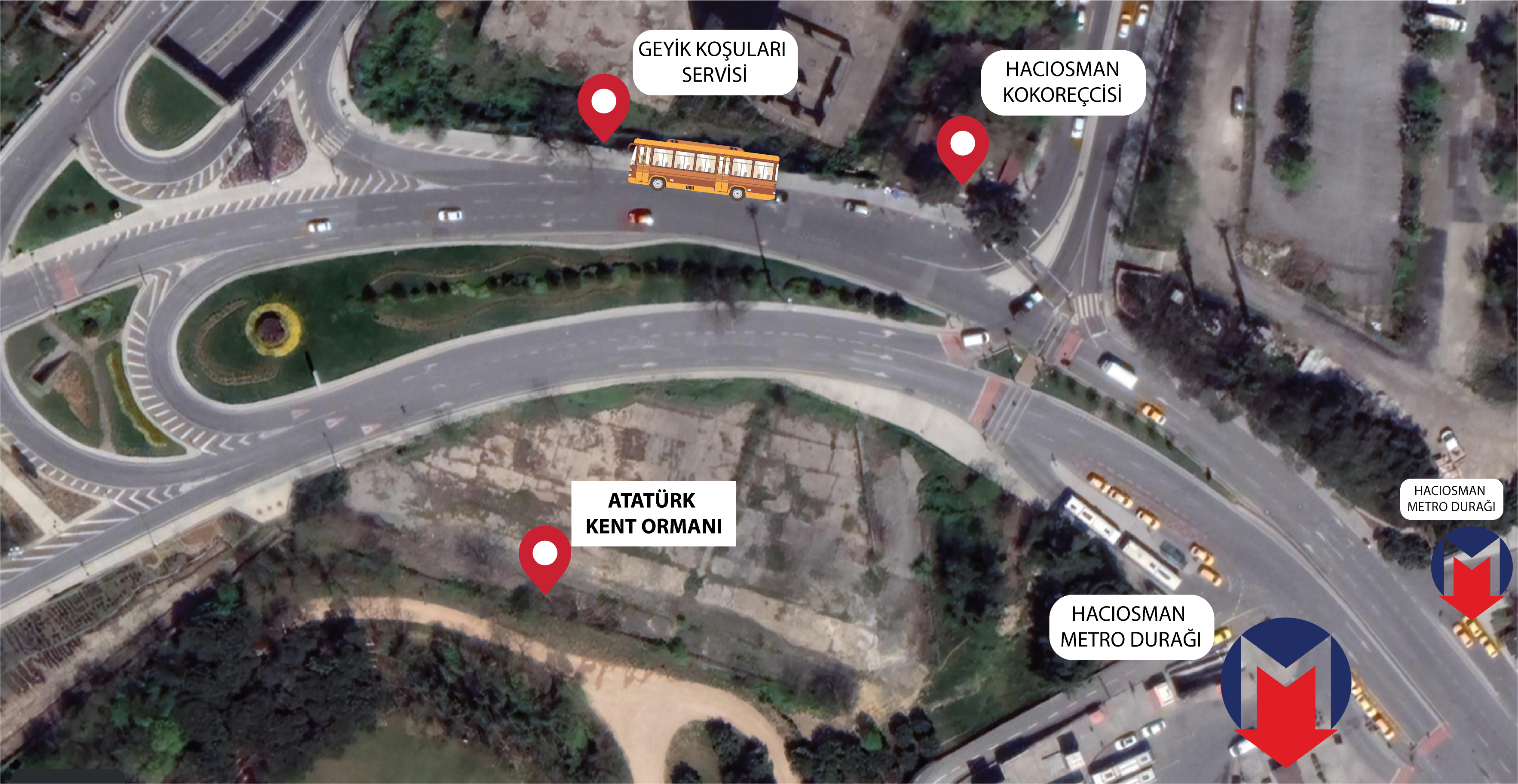 Note: Participants who do not purchase tickets will not be able to use the service even if they fill out the form.
You can reach the race area with the shuttle and transportation information and the service registration form from the link below. Our service records will be closed on Friday, December 8.
Pretty easy to reach Bahçeköy.
Hacıosman Metro 42HM - departs every 15min .
Zincirlikuyu Metrobüs departs Zincirlikuyu- Bahçeköy minibuses. (departs every 9-6 min. Time table )
For more lines and timetables, please check İETT web site or mobile app .
It is also possible to take metro to Haciosman and taksi to Belgrad Forest National Park (app. 45-50 TL, plus the entrance fee)
Driving Directions
On a Sunday morning, it is 25-40min drive time from Levent to Belgrad Forest race venue. Depends on early / late morning, how sunny it is, also which gate. First time driving in Istanbul, add 10mins. :))
Toll fee 13TL (both entrances- 10/11/2020)
Bahçeköy entrance: driving via TarabyaÜstü or Çayırbaşı takes you to Bahcekoy. Might be long que at this gate on sunny Sundays.
Kurt Kemeri Entrance: driving via Göktürk - Kemerburgaz - Hasdal takes you here. Much less que in morning. Flowing and faster drive time despite longer route.
Directions: kurt Kemeri Belgrade Forest | Counter
Mithatpaşa, Belgrad Ormanı, 34075 Eyüpsultan/İstanbul
https://maps.app.goo.gl/bqiWsBdAUoYNWoFUA
Car Parking:

Please check the Google map and A4 downloadable map below.
Geyik Koşuları
Accomodation
Race location is 30-35 min drive from city center. It is recommended to stay in the hearth of the city to maximise the exploration. Hotel advise can be supplied on request.